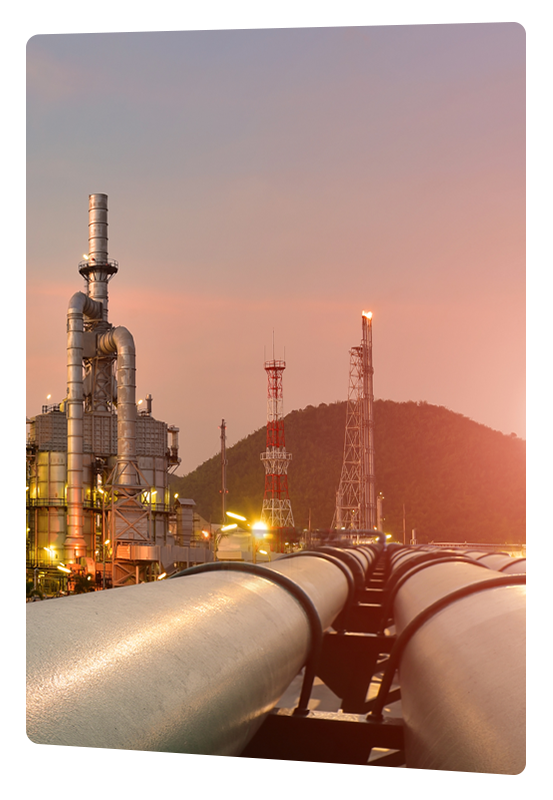 Solutions for gas or oil pipelines
Industrial Pipelines: Safe and Economical Pipeline Automation - All from One Source
VIVAVIS AG is your reliable partner for the economical and flexible automation of your pipeline systems – including the relevant peripherals, such as pumping stations and tank farms.
From central monitoring and powerful SCADA systems through to the necessary electrical, instrumentation and control systems: we offer integrated solutions for gas or oil pipelines. Our scope of services and products ranges from pipeline monitoring to complete management systems for extensive networks with more than a thousand station controllers – thus, VIVAVIS meets all requirements of modern pipeline automation.
VIVAVIS offers reliable and powerful products, a comprehensive services portfolio and long-standing experience and process know-how. This enables us to efficiently implement your projects.
Request now
Functions and features
HIGH-LEIT SCADA System
HIGH-LEIT is a scalable SCADA system with a modular structure in Client-Server architecture, offering SCADA functionalities for operation and monitoring as well as archiving and reporting.
Telecontrol and Automation with the ACOS 7-series
The ACOS 7 series from VIVAVIS is optimally suited for pipeline automation because it combines telecontrol and station automation capabilities in one device, in the form of an IEC 61131-compatible PLC.
Engineering with ACOS ET
Engineering of the SCADA system and the station controllers is done by means of the common configuration and parameterisation tool ACOS ET. Parameterisation and diagnostics of ACOS 750 can be done both locally, via USB or network interface, and remotely via a data transmission infrastructure.
Asset Management with 360° AM
For service and maintenance processes, VIVAVIS offers an optional solution: 360° AM. 360° AM can be used in different configuration levels, offering standardised modules for equipment inventories and management, cyclic and event-oriented maintenance management, fault recording and documentation.
Safety Control according to SIL (Safety Integrity Level)
Whether you are looking at the oil or natural gas industry - these are highly critical sectors, and even small compromises may often have big consequences. VIVAVIS seamlessly integrates your preferred SIL control into the overall system concept and provides the necessary SIL-compliant engineering in accordance with IEC61508/615011. The security control is subject to continuous self-monitoring, switching processes into a safe state whenever necessary.
Moreover, modern security controls protect your system again cyber attacks.

IT Security First
To ensure the necessary degree of IT security, VIVAVIS systems, including the associated IT environment, are designed and implemented in accordance with ISO/IEC 27002 and 27019 standards and also comply with the requirements for secure control and communication systems of the BDEW white paper. Just a few examples on how we strive to ensure your IT system's security: encrypted transmission according to IEC 62351-3 (TLS), OpenVPN or IPsec based on certificate-based authentication between control and telecontrol systems, port authentication via IEEE 802.1X, or logging based on Syslog.