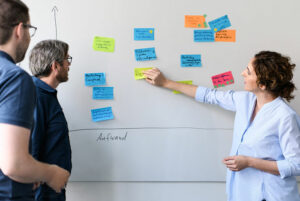 Finding the Right Use Case: How to Successfully Use AI in the Operation of Power Grids
"The times, they are a-changin'…" – our modern times and developments pose enormous challenges to all of us. While we are coping with these challenges, we also have to deal with new technologies' disruptive potential. One question is almost ubiquitous: "How can we establish ourselves as a consistently successful enterprise?" – for the challenges of today and tomorrow.
Through ChatGPT, Artificial Intelligence (AI) has increasingly become part of the public discourse and of the everyday lives of millions of people. Maybe you are also actively discussing how to make meaningful use of AI, in order to find solutions for the problems of our times.
Buzzwords are often "Evangelisation" and "Change Management" – however, even though the first steps of a new idea may only be baby steps, they are decisive for its success: The successful implementation of a suitable use case which makes the – often elusive – topic of AI become more concrete and tangible.
Joint Workshop for the Identification of AI Use Cases
When a new and powerful technology meets complex fields of application, it is crucial to identify the right use cases. AI is not just an end in itself – its purpose is to generate added value.
The question where to find these added values was at the centre of a one-day workshop in October last year, where we met with representatives of North German municipal utilities; the event was organised by Stadtwerke Soltau (Soltau Municipal Utilities). Oliver Bracht, Chief Data Scientist of our Expert Company eoda, provided participants with valuable impulses on the background of AI, and how to identify promising use cases. Use cases were identified in joint discussions, and finally evaluated and further elaborated. The results were future-oriented use cases, from forecasts for grid expansions to the early detection of anomalies in low-voltage grids through to tariff optimisation.
Due to the positive feedback, we are planning to organise further open workshop formats in cooperation with eoda, where our customers will get valuable inspiration and concrete information for the successful utilisation of AI for the operation and control of power grids. Stay tuned for further information!
Of course, our experts from eoda and the AI Use Case workshop are happy to consult personally with you, to develop tailor-made use cases for power grid operation and other fields of application. Please click here for further information.
Moreover, eoda offers an on-line session on "Artificial Intelligence in the Energy Industry: How to Create Benefits in different Fields of Application." Please click here to register for this session free of charge.