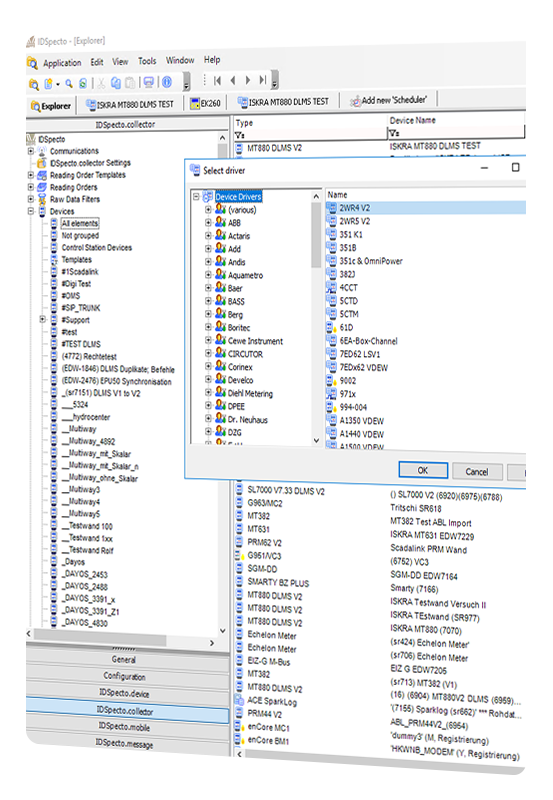 For flexible and automated remote meter reading
IDSpecto.ADMIN - Measurement data acquisition for all energy saving
Wherever a classic remote meter reading is needed, IDSpecto.ADMIN is the ideal solution. Grid and metering point operators benefit from a wide range of available meter drivers and modules, which flexibly enable an individual design of the system as well as a high degree of automation. IDSpecto.ADMIN is suitable for use in both the German and the European energy market and can be integrated into the MDM system IDSpecto.DAYOS.
Features
Metering end to end
Thanks to a high degree of automation, efficient end-to-end processes lead to reliable data and its transfer to the market or to billing.

Intuitive GUI
A user interface, through which the measurement infrastructure can be configured and administered in great detail, facilitates access to all necessary data.
Capture reliable data
The automatic readout of the measuring field incl. Re-entry in case of missing data, ensures economical operation of the system
Reporting included
Comprehensive data output capabilities thanks to a wide range of standard as well as customized reports
Plausibilities checked automatically
Extensive checking options automatically verify data and flag implausible values.
Substitute value creation according to metering code
A calculation module with formula editor for substitute values according to common market standards ensures 100% data, even if the acquisition was not possible or values are implausible.
Send measurement data in line with the market
Support for market-compliant exchanges for electricity and gas
Multi-Client Capability
The service provider also benefits from the system by expanding to multiple clients.
Scalable
With parallelizable services, the system is scalable to any size of business.
Driver quantity
With more than 300 meter drivers, the system offers maximum flexibility in the selection of your field devices.
Interface diversity
For interfacing with other systems such as billing, workforce and EDM, the system offers numerous, standardized formats. From a simple CSV file to a WebService API to map entire processes, everything is possible.
Downloads
Current product data sheet about our product IDSpecto.ADMIN and associated modules. ...