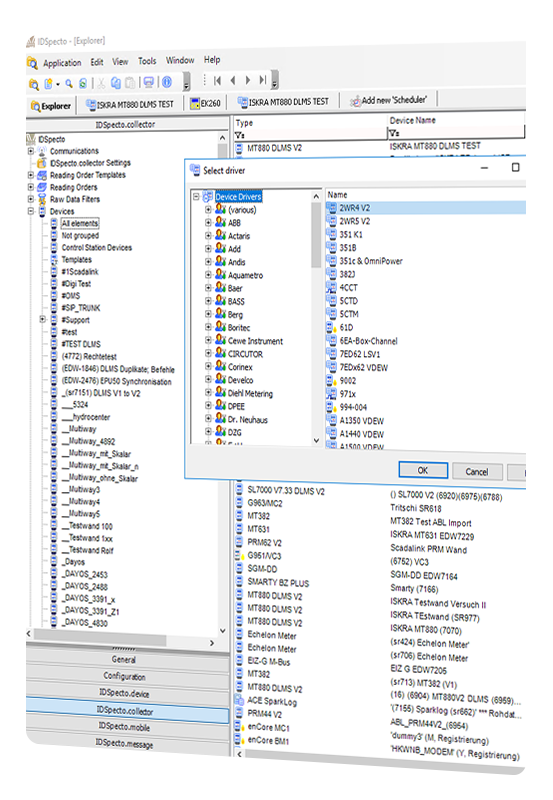 For flexible and automated remote meter reading
IDSpecto.ADMIN - Measurement data acquisition for all energy saving
Wherever a classic remote meter reading is needed, IDSpecto.ADMIN is the ideal solution. Grid and metering point operators benefit from a wide range of available meter drivers and modules, which flexibly enable an individual design of the system as well as a high degree of automation. IDSpecto.ADMIN is suitable for use in both the German and the European energy market and can be integrated into the MDM system IDSpecto.DAYOS.
Features
A user interface through which the measurement infrastructure can be configured and administered in great detail.
Automatic readout of the measuring field incl. subsequent acquisition in case of missing data
Automated monitoring of control operation
Comprehensive reporting thanks to a wide range of on-screen and offline reports
Plausibility of the data through extensive testing options
Calculation module with formula editor for substitute valuations
Support for market-compliant exchanges for electricity and gas
More than 300 meter drivers
Efficient end-to-end processes due to high degree of automation
Variety of interfaces for connection to other systems such as accounting systems
Expandable by IDSpecto.DAYOS - thus RLM, iMSys, Smart Meter and IoT data are available in a common platform
Scalable to any company size
Downloads
Aktuelle Produktdatenblätter rund um unser Produkt IDSpecto.ADMIN und dazugehörende...