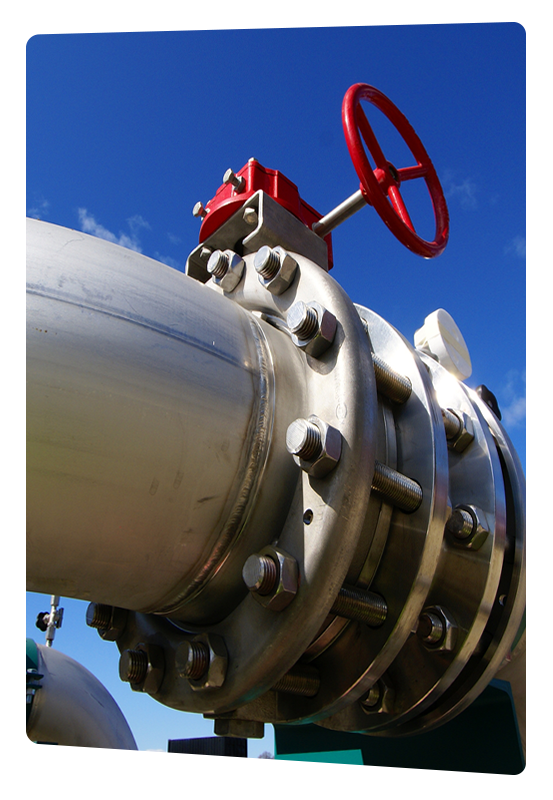 Solution for safe and efficient operation of gas networks
VIVAVIS AG is your competent and reliable partner for the operation and monitoring of gas networks.
We offer end-to-end solutions for gas networks, from central monitoring with a powerful ADMS to gas quality tracking, up to the required telecontrol equipment. The scope of application ranges from regional gas distribution networks to national gas transportation networks.
VIVAVIS offers reliable and powerful products, a comprehensive services portfolio and long-standing experience and process know-how, which enables us to efficiently implement your projects. A wide range of notable projects all over Europe give testimony to our expertise.
We offer end-to-end complete solutions for the safe and efficient operation of gas networks. From engineering to commissioning and service, we are your reliable partner for all questions related to pipeline automation. You benefit from our industry expertise and years of experience in numerous pipeline projects.
Our scalable and modular systems are suitable for every customer's individual requirements and can be easily adapted to their specific system environment. Standardised interfaces and protocols facilitate easy integration of our technology into existing IT systems. Therefore, our solutions are not only flexible but also constitute a secure investment.
Demands on the operational safety and reliability of pipeline systems are huge and are steadily increasing. To support you in these challenges, we offer complete solutions for all areas of pipeline automation: from ADM systems to suitable telecontrol and automation equipment. The HIGH-LEIT ADMS caters for all types of central operation and monitoring tasks. It has a modular structure which makes it suitable for all sizes of pipeline systems. Thanks to its high-performance properties it is particularly suitable for complex and extensive networks.
Request now
Functions and features
HIGH-LEIT is a scalable ADMS with a modular structure in Client-Server architecture, offering ADMS functionalities for operation and monitoring as well as archiving and reporting.
HIGH-LEIT has functionalities to predict the gas release. Weather dependency procedures and predictions about profiles are possible.
In addition, HIGH-LEIT offers functionalities for the management of gas storage facilities and caverns.
Topological colouring of the pipeline network gives the operator an excellent overview of the supply status of his networks. In addition to coloring according to different feeds, pressure and flow-related representations are available. In addition to the usual schematic representations of pipeline networks, the geo-based network representation provides an even better overview of the exact location of the operating equipment.

Thanks to the integration of the SIMONE software for gas quality tracking, the results of the calculations are directly available in the ADM system's user interface: Process-accompanying and predictive simulation, leak detection and pipeline pig tracking.

All components of HIGH-LEIT can be designed as a redundant, hot stand-by solution. This means that if a component (e.g. Server PC) breaks down, the system continues to operate without data loss and without limitations. Moreover, it is possible to implement geo-redundant configurations with multiple redundancy.

All components comply with the current security criteria acc. to ISO 270xx, ensuring secure operation and the protection of your confidential data. VIVAVIS AG itself is also certified acc. to ISO 27001.

HIGH-LEIT enables the exchange of data both with other technical systems and with commercial environments (ERP/EDM/billing) via a variety of interfaces. It is also possible to integrate this data exchange into business processes by means of BPMs (Business Process Systems).
For the exchange of data with other network operators, we use standard protocols and data formats: IEC 60870-5-104 in reverse mode, OPC UA, TASE.2

In order to collect the required massive volume of data, solutions from VIVAVIS offer a wide range of interfaces and protocols for the connection of RTUs and PLCs.
In addition to the current telecontrol standard protocols of IEC 60870-5, we offer process-related protocols such as Modbus.

The ACOS 7 series is ideally suited for installation in gas control stations, for example, because it combines telecontrol technology and automation functions in the form of an IEC 61131-compatible PLC in a single device.
The use of safety-related controls can also provide reliable and safe automation of pressure control, distribution and customer stations.