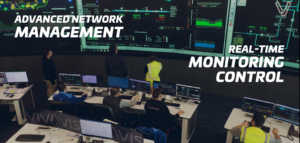 Advanced network management: real-time monitoring control
As infrastructure networks become more complex due the changing energy mix, it becomes increasingly difficult for Utilities to manually monitor and manage them. This is why there is a need for Advanced Network Management. Historically utilities mainly use SCADA and other Operational Technologies, however with the increasing demands of Business Intelligence in operations and the merging of IT and OT worlds, it is needed to provide advanced analytics and better KPI management platforms which can provide a centralized view of network performance data from all sources within the network and allow for better operational as well as planning KPIs.
What is the solution?
VIVAVIS offers a modular System for Advanced Network Management for Utilities. NPM is a powerful tool that can help utilities to improve their efficiency and reduce their costs. Whether it's for Electricity, Water or Gas networks, NPM offers provide a single pane of glass view of relevant network performance data from various sources which improve visibility, increase efficiency, enhance collaboration and help in improved decision making. The platform is customizable for every target group in the organization, whether it's operations, engineering or administrative and management staff. Further customers benefit with easy deployment with our ready-made dashboards and views which provide the ability to start effortlessly.
Some of the key features include:
Geo-based management of the entire network; fully integration to the Geographic Information System as well as other existing systems such as SCADA, Meter Data Management and ERP systems thereby creating a digital twin of the network at NPM.
KPI- based performance management; creating of sector and application specific KPIs
Customizable free dashboards for any target group of users.
Anomaly detection and advance reporting via integrated predictive analysis and machine learning.
Generation of Heatmaps via advanced analysis of data.  
NPM in Water Networks
VIVAVIS has implemented several applications and project at customers using the NPM in Water Sector. Specifically in Water Networks can provide a number of benefits for water utilities, such as:
Improved water efficiency: NPM can help utilities to identify and reduce water losses, which can lead to improved water efficiency.
Reduced costs: NPM can help utilities to reduce their costs by optimizing their water networks and by identifying and eliminating bottlenecks
Increased compliance: NPM can help utilities to comply with the latest regulations for water network planning and management.
With specific functions for each sector, we offer in the Water below such functions in the NPM:
Operation optimization (Determination and Reducing of Water Losses through MNF- Minimum Night flow Analysis and Water Balance methodology according to IWA standards (International) and DVGW W392 (Germany) and Network optimization through pressure management which reduces malfunctions, extends economic life cycle of the network, increase supply reliability, and consumer satisfactions)
Loss-leakage analysis: can help utilities to identify and quantify water losses in their networks. This information can be used to improve water efficiency and reduce costs.
DMA (District Metered Area) management: can be used to manage DMAs, which are areas of a water network that are metered individually. This helps utilities to track water consumption in each DMA and to identify areas where there may be water losses.
Pressure and flow management: can be used to manage pressure and flow in water networks. This helps to ensure that the network is operating efficiently and that there is adequate pressure for water supply.
Data analysis, report, graphics and event management: provides a variety of tools for data analysis, reporting, graphics, and event management. This helps utilities to track the performance of their water networks and to identify areas where there may be problems.
And many more…
Get started today!
If you are looking for a way to improve your network planning and management, NPM is a great start and with our expertise of projects around the world, VIVAVIS technology can offer you the solution for your need.
To know more or to get started, simply get in touch with us or a VIVAVIS representative.