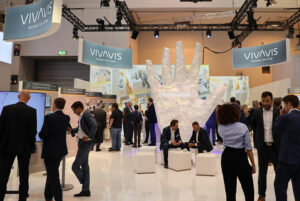 E-world energy & water 2023 – We were there!
From 23 to 25 May 2023, VIVAVIS took part in this year's E-world energy & water trade fair in Essen (Germany). With a total of 820 exhibitors and more than 20,000 visitors from nearly 70 countries, this fair has been a most impressive and memorable event!
The VIVAVIS motto was "Controlling the Energy Transition – Smartly and Efficiently"; our colleagues presented the latest solutions from the fields of SCADA, telecontrol and metering. Our VIVAVIS staff was joined by experts from our subsidiaries eoda and CAIGOS, featuring topics like Big Data and AI as well as GIS and asset management. And of course, we had also brought our "hand" sculpture as a well-known eyecatcher with recognition potential.
All in all, we are pleased to say that this year's E-world 2023 was an amazing success and a great team effort; we were happy to welcome numerous visitors and enjoyed fascinating talks and profitable encounters at our stall. For those who couldn't be there, we have prepared a video with impressions of this year's E-world: https://youtu.be/KqBa1OCaREo