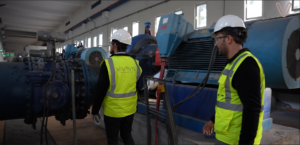 New contracts for VIVAVIS Turkey
VIVAVIS Turkey Awarded Major Water Management Project in Mersin
We are delighted to share exciting news regarding a major water management project in Turkey. VIVAVIS Turkey has been awarded a prestigious contract valued at €5.7 million for the design and implementation of an advanced water management system in the city of Mersin. This project follows the successful completion of a similar endeavor in Istanbul, also undertaken by VIVAVIS Turkey. With its comprehensive scope and transformative impact, this initiative marks a significant milestone in the water management landscape.
The primary objective of this project is to deploy cutting-edge technologies and solutions to optimize the water distribution network in Mersin. VIVAVIS Turkey will be responsible for designing approximately 100 District Metered Areas (DMAs), which will enable precise monitoring and control of water flow. In addition, the company will provide essential services related to network digitization, as well as the supply and installation of instruments, automation systems, telemetry devices, and centralized software solutions, including the Network Planner and Manager (NPM).
NPM, an advanced water management platform developed by VIVAVIS, will serve as the central hub for monitoring, analyzing, and optimizing the city's water distribution network. Leveraging real-time data, comprehensive reporting, and predictive modeling capabilities, NPM empowers water authorities in Mersin to make informed decisions, proactively identify and address issues, and optimize network performance.
The benefits of this transformative project are extensive. The implementation of advanced management techniques and digitization solutions will result in a significant reduction in water losses, improved operational efficiency, and substantial cost savings. Furthermore, the project aims to enhance the reliability of the water distribution network, reduce malfunctions, extend the economic lifecycle of critical infrastructure, and ultimately increase customer satisfaction.
VIVAVIS Turkey's selection for this prestigious contract underscores their expertise and reputation as a leading provider of smart infrastructure solutions. Having successfully delivered a similar project in Istanbul, the company is well-equipped to tackle the challenges and complexities of this major endeavor in Mersin.
VIVAVIS Turkey Awarded Contract for Energy Management Project in Mersin
We are excited to share a significant development in the field of energy management. VIVAVIS Turkey has been awarded a prestigious contract by the Mersin Water Authority, valued at approximately €2 million. This contract entails the supply and installation of an advanced energy management system, which will have a transformative impact on energy consumption and operational efficiency in Mersin.
The scope of this contract involves the implementation of an energy management system across 30 MV Substations, 250 LV Stations, and 9 Photovoltaic Panel Stations. VIVAVIS Turkey will be responsible for the seamless installation, configuration, and integration of these systems. Furthermore, the Efficio Energy Management platform will be extended to include additional functionalities through the integration of the Network Planner and Manager (NPM) software, enabling geobased and KPI-based management and analysis.
The Efficio Energy Management platform, known for its advanced features and capabilities, will empower the Mersin Water Authority to effectively monitor and manage energy consumption. With the integration of the NPM software, the authority will gain valuable insights into geobased management, KPI-based analysis, and enhanced reporting functionalities.
In addition to the core energy management system, the two-year contract includes the supply of systems for metering, pump efficiency, and genset automation solutions. VIVAVIS Turkey will also provide comprehensive maintenance services for the existing systems, ensuring optimal performance and longevity.
This transformative project aims to provide several key benefits to the Mersin Water Authority. By implementing the advanced energy management system, the authority will enhance the reliability of energy supply, improve energy efficiency, and develop and implement policies for energy savings. These measures align with their commitment to sustainable practices and responsible energy consumption. VIVAVIS Turkey, renowned for its expertise in smart infrastructure solutions, is well-equipped to deliver on this important contract. With a proven track record in successful project implementation, their commitment to innovation and customer satisfaction makes them an ideal partner for this endeavor in Mersin.
Service Contract Awarded to VIVAVIS Turkey for Istanbul Project
We are thrilled to announce that VIVAVIS Turkey has been awarded a service contract valued at approximately 1.5 million euros in Istanbul. This contract, spanning two years, will involve providing a range of services to support the efficient operation of the water network in the region. The services include active leak detection, network digitization, and maintenance support for automation, instrumentation, and telemetry systems located in about 100 District Metered Areas (DMAs).
The primary focus of this contract is to reduce water losses through active leak detection in the network. VIVAVIS Turkey will employ advanced technologies and methodologies to identify and locate leaks promptly, enabling swift repairs and minimizing water losses. By implementing effective leak detection measures, the project aims to enhance water resource management and ensure the sustainability of the water supply in Istanbul.
In addition to leak detection, VIVAVIS Turkey will provide digitization services for the pipe network. This includes utilizing the HIGH-LEIT SCADA and NPM (Network Planner and Manager) Advanced Network Management Platforms, which were previously implemented by VIVAVIS Turkey. The digitization process will enhance the operational efficiency of the network, facilitating data-driven decision-making and proactive management of the water distribution system.
Moreover, the contract includes maintenance services for the automation, instrumentation, and telemetry systems located in the 100 DMAs. VIVAVIS Turkey will ensure the smooth operation and optimal performance of these systems, enhancing their reliability and longevity.
It is important to note that VIVAVIS Turkey previously designed and constructed the system of 100 DMAs covering a pipe network of approximately 2,700 kilometers in Istanbul between March 2021 and June 2023. The successful completion of this project has laid the foundation for the current service contract, as the system and operations will now be supported by the services provided under the new contract.