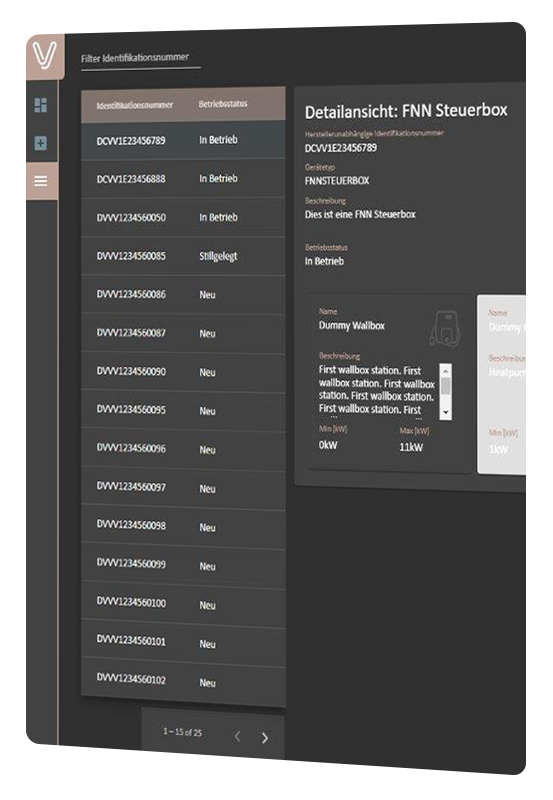 For optimal management around the CLS channel
IDSpecto.CLS-Operator - Grid-serving control and integration of value-added services via the smart metering system
IDSpecto.CLS Operator is the management tool for use cases that use the CLS channel of the Smart Meter Gateway (SMGW).
With IDSpecto.CLS-Operator, active external market participants (aEMT) can manage all switchable and controllable systems in the low-voltage level in compliance with the requirements of the Metering Point Operation Act (MsbG) and integrate them into their operations under just one interface. Market-related measures, e.g. in the sense of Redispatch 2.0 and universal ordering process, can be implemented as well as the handling of an emergency measure of the network operator in case of a network bottleneck. Furthermore, additional devices can be integrated that also transmit their data or status via the CLS channel of the SMGW. In this way, value-added services such as the reading of heating circuit distributors and water and heat meters in the area of submetering can be realized, as can IoT applications or the secure communicative connection of energy management systems (EMS).
Features
Integrated control box admin to manage the control boxes
From the master data of control boxes and systems to firmware updates, all functions of the Control Box Admin are mapped uniformly.
Integrated timetable management
Schedules can be created and edited in the system and imported manually or automatically to control boxes.
Control manually from the system or automatically via network control center
An action on the control box can be executed through the GUI of the system but also through the universal ordering process or by the network control center itself.
Audit-proof logging of all switching and control actions
All actions performed in the system are logged and ensure at any time a complete record of all actions performed by the system.
Communication up to the control box via IEC 61850
You can reach any FNN compatible control box via the IEC61850 protocol, ensuring your flexibility in choosing your hardware suppliers.
BSI compliant communication endpoint for SMGW (aEMT)
The SMGW connected to the control boxes must - BSI compliant - report to the aEMT and enable a channel to the control box. All processes required for this are encapsulated in the cryptography component of the CLS operator.
Standardized interfaces in the direction of the market and GWA
Standardized interfaces such as the universal ordering process or the GWA interface according to FNN PG GWA system connection allow the system to be integrated into a wide variety of system infrastructures and processes.
Standardized IEC 60870-5-104 interface for integration into a network control system
By means of the widely used IEC 60870-5-104 protocol and a corresponding addressing concept, both the control actions from an NLS and a measured value transfer can be realized.
Downloads
IDSpecto.CLS-Operator - Lösung für CLS Management