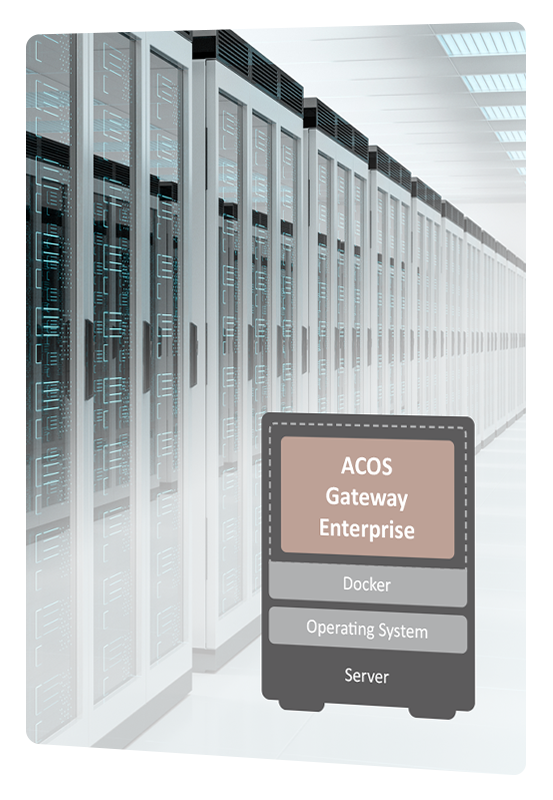 For secure data traffic
ACOS Gateway Enterprise - The bridge between SCADA and telecontrol network
ACOS Gateway Enterprise provides you with the link between SCADA and telecontrol network. ACOS Gateway Enterprise is provided as a Docker image and can be installed on SUSE SLES or RedHat Enterprise Linux.
Features
IT-security by Design
With its comprehensive IT security functions (IEC 62351-3, logging, RBAC), ACOS Gateway Enterprise enables the implementation of regulatory requirements for secure network operation.
Updatable
With update capability and central management of firmware (patch management) and certificates that keep your systems up to date.
simply multilingual
Extensive standardised protocol support according to IEC 60870-5-104, Modbus TCP, DNP3 ensures interoperability and consistent efficient engineering in ACOS ET.
Redundant operation
ACOS Gateway Enterprise can be operated in redundant mode. For the communication of the connected telecontrol devices, either automatic switching or switching via SCADA can be used.
Extensive communication
Enables communication with 2000 telecontrol devices via a maximum of 8 network interfaces.
Easy Parameterization
ACOS ET enables central, simple, fast and safe engineering. With intelligent user assistance as well as functionalities for fast migration of existing telecontrol heads to ACOS Gateway Enterprise. The parameterisation can also be taken over and saved via the web interface of the ACOS Gateway Enterprise.
Diagnosis
ACOS Gateway Enterprise offers comprehensive diagnostic functionalities for network connectivity, communication, traffic recording and device logbook.
Downloads
User Manual ACOS Gateway / Gateway Enterprise, from Release 5.30 / 7.8
Login is required to access this page