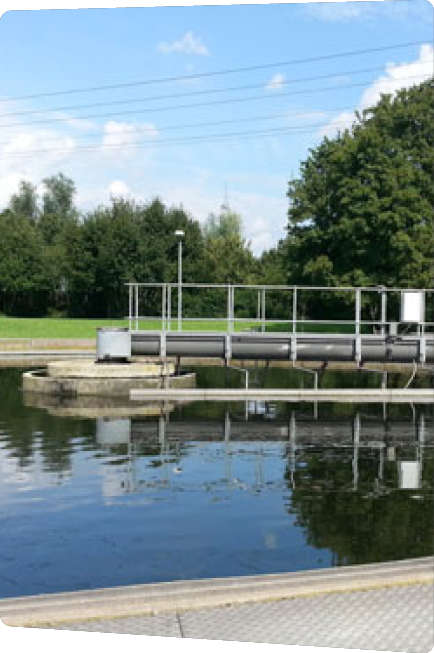 Solution for the special needs of wastewater treatment plant operators
Customized complete solutions for highly scalable process control in wastewater treatment plants
For the safe and sustainable operation of wastewater treatment plants, we offer end-to-end complete solutions.
Through many years of intensive exchange with our customers, we have a focused view on the industry-specific process management of the wastewater industry. The features of our systems are further sharpened with each release with regard to the specific requirements.
Our modular systems are ideally suited for monitoring and controlling the individual processes of your wastewater treatment plant. Adaptations to current conditions and easy integration into existing system environments are made possible without any problems by standardized interfaces and protocols.
With the highly scalable EP2000 process control system, you can keep an eye on the processes and parameters of your wastewater treatment plant at all times and respond directly to deviations and changes in status. Anomalies are indicated to you at an early stage and you decide yourself at any time on the triggering parameters. Safe process control is possible locally, remotely or via PLC-controlled automation stations. The collection, management and organization of large amounts of data and the authority-compatible transfer, e.g. in the form of operating reports, will facilitate your daily work.
From consulting and project planning to commissioning and after-sales service, we will remain at your side as often and as long as you wish. Feel free to contact us about our service and maintenance contracts.
Request now
Functions and features
The Control Center is the central entry point into the monitoring of processes. The display can be customized and the cockpit function allows the instances to be strategically arranged and distributed across multiple screens.
The automated documentation tool documents the configuration settings of your system and provides output in PDF format. In accordance with current IT security guidelines, particularly sensitive information can be hidden during export.
An add-in for Microsoft Excel* is available for creating and using your own reports. It enables access to all archive values in the process control system. In addition to the familiar Excel functions, there are many other ways to access process information. For example, information entered manually can be written directly to the archive system of the process control system via an Excel spreadsheet.
* Microsoft Excel is a trademark of the Microsoft group of companies.
Own process pictures can be designed freely or generated quickly and easily using templates. It is also possible to adapt process screens to individual requirements using scripts and to implement special functions.
Historical information is usually displayed in the form of tables or curve displays. The review function offers the possibility to display historical information in a process screen in the technological context. Within the process screen output, you can switch between current values and historical values.
Extensive options for fault alarming are available to you, e.g. prioritization, delay, individual texts and message surge suppression. Call chains and on-call schedules can be created to manage the alerting. The communication channels SMS, e-mail, voice call and eCityruf are supported.