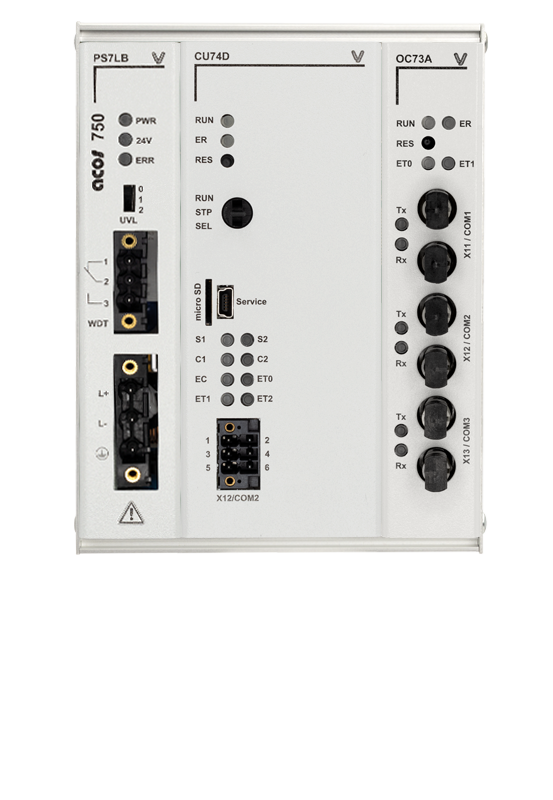 For more performance at the highest level
ACOS 750 - The scalable automation and telecontrol technology masters every challenge
The ACOS 750 automation and telecontrol device provides you with one of the most powerful systems for the highest demands. ACOS 750 has a modular design and can be scaled according to your needs. For this purpose, VIVAVIS offers you wide-range power supplies, powerful CPU modules and a wide range of I/O, communication and application modules. These can be set up both centrally and decentrally on the basis of EtherCAT® technology. ACOS 750 combines powerful local automation and robust remote control technology in one device. The integrated PLC based on CODESYS® V3 enables you to implement even complex automation tasks and programming according to IEC 61131-3.
Features
IT-security by Design
With its comprehensive IT security functions (OpenVPN, IPSec, IEC 62351-3, IEEE 802.1X, logging, RBAC), the ACOS 750 enables the implementation of regulatory requirements for secure network operation.
Updatable
With remote update capability and central management of firmware (patch management) and certificates that keep your systems up to date.
simply multilingual
Extensive standardized protocol support according to IEC 60870-5-101/103/104, IEC 61850, Modbus RTU/TCP, DNP3, Profibus-DP ensures interoperability and consistent efficient engineering in ACOS ET.
High availability
Scalable as needed through the use of intelligent redundancy concepts (redundant power supply units and central processing units) and replacement path strategies at the communication level. In addition, data is historized or buffered in the event of connection interruptions.
Fast process signal processing
Millisecond-accurate time stamping of events enables efficient cross-system troubleshooting in the event of a fault.
Scalable according to demand
The extensive I/O and communication module portfolio makes the system usable across all divisions up to the extra-high voltage level and meets the requirements for dielectric strength and harsh environmental conditions (overvoltage, EMC, temperature range -20 to +70°C).
Automation
With the integrated PLC functionality based on CODESYS® V3 and programming according to IEC 61131-3, it is easy to access all data points quickly and securely, both locally and across systems.
Easy Parameterization
ACOS ET enables central, simple, fast and secure engineering. With intelligent user assistance as well as functionalities for fast replication of typicals.
Diagnosis
ACOS 750 offers extensive diagnostic functionalities for hardware, network connectivity, GPRS/LTE, process states, communication, recording of data traffic and device logbook.