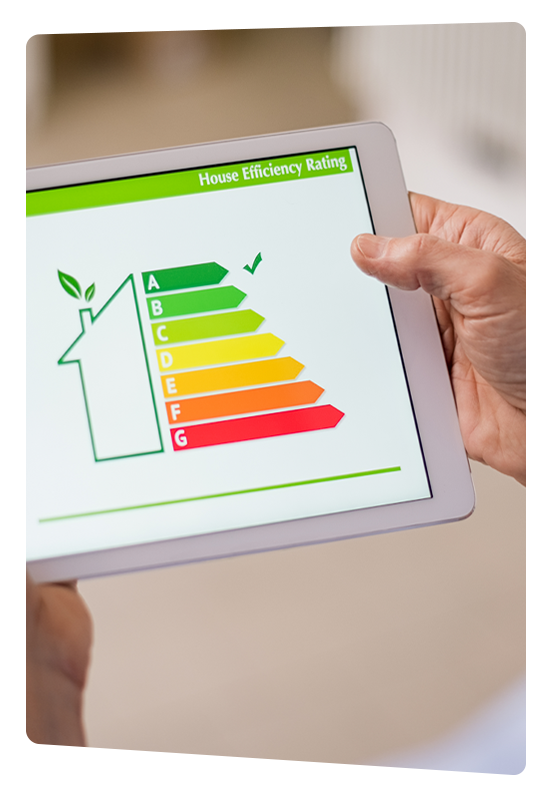 Solutions for Energy and Climate Monitoring
Comprehensive Analysis of Energy and Climate Data
Wherever energy assessment of plants or properties is required and their efficiency is to be monitored, our energy monitoring solution helps to uncover optimisation potential, save energy costs and, if necessary, comply with standards such as DIN EN ISO 50001:2018. The hardware we use ensures reliable measurement of consumption, generation and status data (e.g. temperatures), and also collects data directly from generators and consumers via the corresponding interfaces. The energy monitoring solution receives metered data, storing them in a central memory. Based on this data, it is possible to make evaluations, trigger alarms and use a variety of other functions for analysis and reporting. This means that you always have a clear overview of the energy consumers and producers, for example in the context of energy contracting or local heating networks in city neighbourhoods, and that you can adopt the necessary measures at an early stage. Apart from collecting and analysing energy consumption and load situations, our solution is also able to monitor air quality data by measuring and monitoring e.g. temperatures, air humidity and CO2 levels via IoT sensors, compiling these data in the form of reports.
Request now
Functions and features
Our energy management system enables the monitoring of energy performance indicators and assess the control behaviour of your systems. It helps you to control energy goals and measures, providing a clear overview of the current conditions at all times via dashboard. Alarm functions enable early interventions and the initiation of countermeasures.
The monitoring of consumptions and conditions can be easily adapted to the customer's needs, ranging from the monitoring of electricity, water or heat meters and solar farms to the measuring of air humidity and customer frequency.
Radio infrastructures are set up via smart and durable gateways, such as enQube II or Skalar.pro, which are able to communicate via a wide range of different transmission standards. Depending on the technology you are using, you may even include range extenders and repeaters.
At the core of our solution is the VIVAVIS IoT Hub; in combination with the VIVAVIS Dashboard, it serves as the central data store where all data are collected, assessed and standardised and then provided to the connected systems.
The VIVAVIS Dashboard gives you a clear and concise overview of recorded metered data at all times. It provides a wide range of reports and views to inform you about the current conditions on site. If specified limits are exceeded, automatic alarms help operators to make early interventions and adopt the appropriate measures.