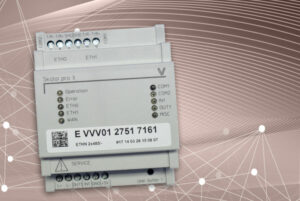 NEW! Skalar.pro II DR – maximum flexibility for customer applications
Requirements placed on monitoring and controlling combined heat and power stations (CHP) and plants in accordance with German law (EEG) have been steadily increasing over the last few years. The number of possible application scenarios has multiplied. As a reaction to recent developments, we now launch the successor to our tried and tested Skalar.pro DR.
Our new Skalar.pro II DR combines the benefits of compact design and flexibility in one modular application. You define necessary functions and purchase matching modules that meet your demands. This not only saves costs but also enables optimum adaptation of the device to tasks and requirements.
Possible application scenarios remain manifold. Skalar.pro II DR connects your CHP or other types of plants in accordance with German law (EEG) and your meters to IDSpecto, Efficio or your already implemented control technology. Skalar.pro II DR standardizes different plant types by means of particular drivers. The device uses a standardized data transmission protocol for communication and is thus able to realize numerous use cases from monitoring plants or local area substations to virtual power plants. In addition, Skalar.pro II DR also covers classic metering applications by means of regular reading and provision of data delivered by connected electricity, gas, heat or water meters. Extensive data security is guaranteed by remote VPN connection.
Some typical use cases are:
Least Cost Metering
Monitoring of plants by means of voltage and current figures
Automatic meter reading (AMR)
Monitoring of heating systems, pumps or sensors
Monitoring of power units
Monitoring of minimum and maximum values as well as thresholds
Monitoring of local area substations and power quality of low voltage

Are you eager to learn more about Skalar.pro II DR? Please do not hesitate to contact us! We are looking forward to answering your questions.